Random subway station: Sinseol-dong/신설동역,

 Line 1 

and 

 Line 2 

Points of interest:
Other stations visited:
Old Seoul
Dongdaemun is best known for its fast-fashion discount malls and the futuristic Zaha Hadid-designed Dongdaemun Design Plaza, but its markets sprawl in every direction. Head south and west, and you get to Seoul's Central Asian district, with signs in Cyrillic and restaurants that serve horse meat. Head east, and the new gives way to the old.
From Dongmyo Station to Sinseol-dong Station is a vast district of indoor and outdoor antique shops and secondhand markets selling everything imaginable: old stereos, electric guitars, furniture, statues, piles of discount clothes, real and fake designer handbags, practice butterfly knives with dull blades, LED batons for guiding traffic, a framed portrait of dictator Park Chung-hee, celadon pots, terrible ink-brush paintings, toy cars, Harley Davidson leather vests, shoes with springs for soles, Japanese candy, life-size bronze statues of scantily clad women playing instruments, Southwest-style steer skulls, toy guns, Bowie knives, old Korean post boxes and school desks, stuffed animals, socks, watches, AM radios and hi-fi systems of every vintage, industrial detritus, tents, VHS pornography and a CRT TV to watch it on, Air Supply on LP, bronze bells with dokkaebi faces. For a start.
The patrons, too, are vintage, with a median age hovering around sixty. (In that way — and only in that way — it's like shopping in Scottsdale, Arizona.) Sinseol-dong isn't quite Seoul as it once was — there's an awkward simulation of that on the top floor of the two-story indoor Seoul Folk Flea Market (서울풍물사장), where we started out our day — but it's more than just a market. Dongmyo is a place to come if you want to surround yourself with the things you remember from when you were young and the people who remember them too. The air of rough-and-tumble nostalgia is a respite from Seoul's relentless new-and-shiny transformations and trendy upgrades. The going soundtrack is trot, Korea's bouncy downmarket schmaltz-pop for the poorly educated elderly, and you can pull up a blue plastic stool at an outdoor food stall for some fish cake and a little makgeolli, or let yourself be entertained by the hawkers and hucksters shilling their wares on the street.
And it was packed. You hear that Korea has a demographic bulge of middle-aged people, but you don't really feel it in Seoul's more fashionable areas. Here, though, throngs of older Koreans filled the streets and alleyways. There were hardly any foreigners — not even from Asian countries — and only a scattering of young people in search of a vintage come-up. But there were older Koreans by the thousand.
Into the hills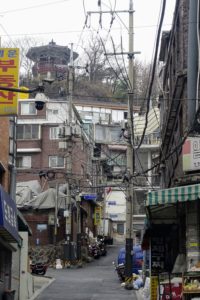 After a few hours of crowds and musty things, we popped out onto Jongno, the main road, and spied a traditional pavilion up a steep hill to the north, in an area I'd never been to before. We started up into one of those precarious Seoul neighborhoods where the streets narrow down into uneven concrete staircases between the old houses. There are oddities tucked away in these areas: we passed a Buddhist temple, and also a hagwon for people who want to learn Hebrew, before emerging into the open space of Sungin Park (숭인공원).
One of the pleasures of Seoul is that you can see it from above, taking in its vast density from the rocky promontories that rise up out of it. It was a misty, dusty day, but we could see south to Namsan Tower, north to Bukhansan, and west to Inwangsan, picking out landmark skyscrapers in the basins far below us.
From the pavilion, the park extended northward and upward to several viewpoints, the highest of which was graced with an open library and a pretty extensive array of weights and gym machines, because that's what Koreans like to put at the tops of mountains.
We decided to continue on to Daehangno, an art and culture district not too far away to the west. The path took us along a road that neatly divided new and old Seoul: on one side, elegant new apartment towers; on the other, brick buildings clinging to the mountainside, full of makeshift extensions, green plastic-lined roofs and mismatched brown earthenware onggi pots.
We passed Cheongnyongsa Temple (청룡사), then crossed into well-groomed Naksan Park (낙산공원), where a stretch of the old city wall soars over the city far below.
The cutest street in Seoul
We emerged from Naksan Park onto Naksan-gil, which has to be one of the cutest streets in all of Seoul. It's a steep climb down, lined with galleries and boutiques, and I was delighted to stumble on U-noh Gallery. A few years ago I bought a couple of U-noh's energetic flower paintings at the Hongdae Free Market for the paltry sum of 70,000 won. He now has a full gallery up above Daehangno, where he also does leather work and makes gorgeous painted handbags. It's art you can probably afford and one-of-a-kind artisan leatherwork. Go check it out!
We rounded out the day with a tasty meal at Grill Thai Noodle & Steak, where you pick out your own veggies for your pad thai, and a little shopping at Hands Market, where I got bootleg Gentle Monster sunglasses for 14,000 won, plus a very profound hat.