Much of what we think of as the real world is actually collective dreaming. Money, laws, social mores, nation states don't exist in any absolute sense; they're not real the way rocks and trees and gravity are real. They're shared agreements that could evaporate in an instant, and sometimes do.
Confronted by a national border, we are suddenly reminded how arbitrary our shared agreements are: the money in my pocket can be exchanged for goods on this side of the imaginary line, but not that side; I can relax here in the shade of this tree, but if I try to rest in the shade of that tree over there, armed men will stop me unless I go through a particular ritual involving specially prepared documents.
The DMZ — the demilitarized zone that separates North and South Korea — is an especially arbitrary border, the result of hasty decisions at the close of World War II and a military stalemate in 1953. It's also the site of a bitter struggle between competing collective dreams, where each side has been preparing for 64 years for the other side to wake up and adopt the worldview of its opponent.
Dorasan Station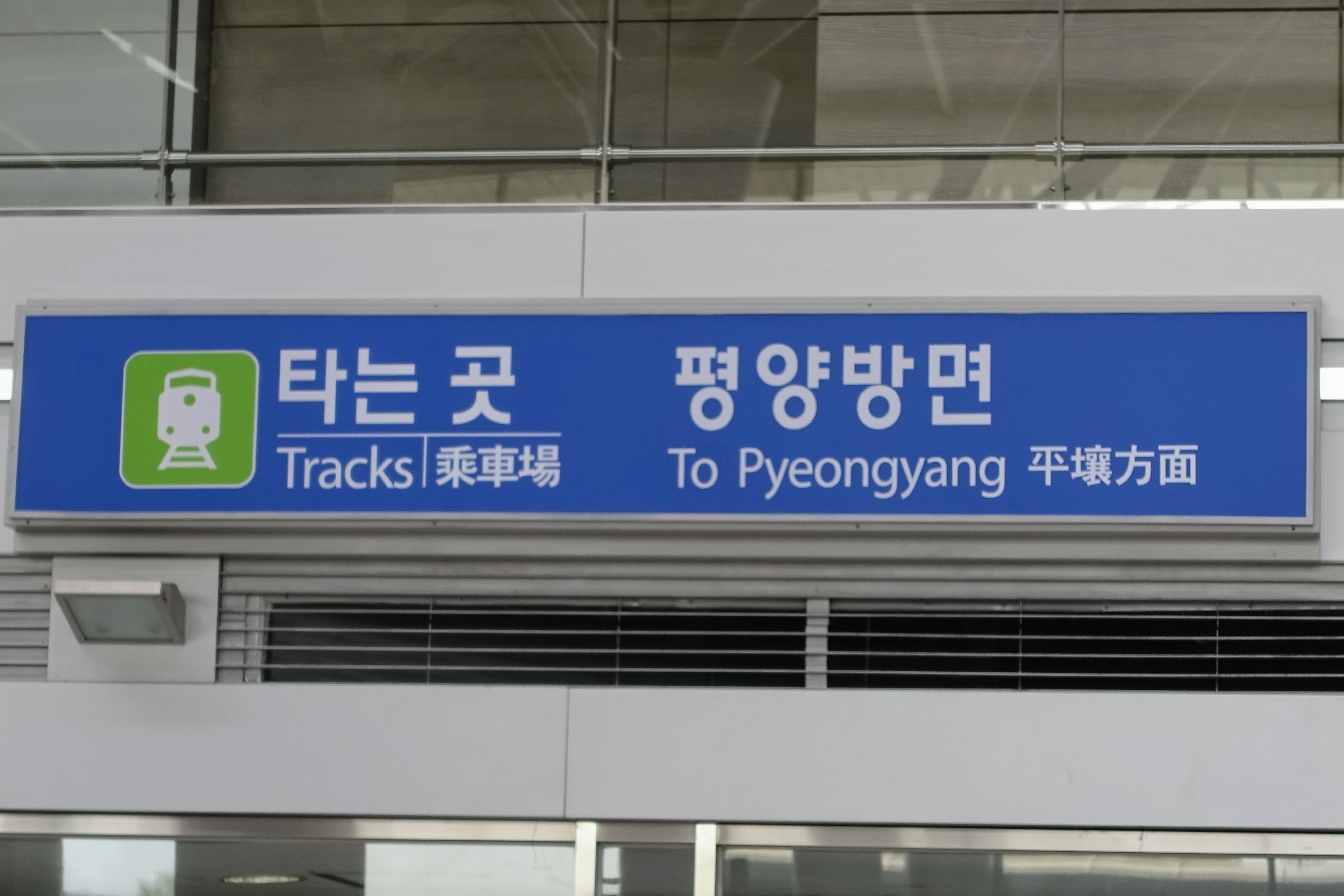 A full-day tour of the DMZ begins at Dorasan Station, the northernmost point on the South Korean railway system and a monument to a South Korean dream of unification. The fully functional station has been used exactly once, for a test run into North Korea during a thaw in relations. It sits waiting for the moment when rail service to points north becomes possible. You have to buy a ticket to go to the platform. On the way in, I noticed a South Korean tap his paper ticket to the top of the turnstile, the way you do with your digital transit card in an operational South Korean train station. Nothing happened. Nothing ever happens here.
The Third Tunnel
For all that borders and nation states are imaginary, certain things are all too real: the landmines that make the DMZ impassable, and the tunnels the North Koreans dug at various points in attempts to infiltrate into South Korea. We visited the Third Tunnel because it's the closest to Panmunjom. Surreally, you enter the tunnel in a little open train that feels like a kiddie ride at an amusement park.
Like everything else along the DMZ, the tunnels are the subject of a propaganda war. The North Koreans first claimed they had nothing to do with the tunnel — discovered by the South Koreans in 1978 because of underground explosions — then later claimed it was a coal mining operation, though the walls are obviously granite and the odds of finding coal in such a location are exactly zero.
Outside the tunnel, big letters spelling out DMZ are a kitschy place to take a photo, while a statue of young people pushing a divided world back together unfortunately made me think of Humpty Dumpty.
In a small garden at the edge of the compound, you could hear music drifting in on the breeze: South Korean propaganda being blasted at the North. This audio war, in which the North and South played music and taunting messages at ever increasing volume, had fallen into an armistice during the period of the Sunshine Policy, but the South started it up again a couple of years ago in response to some North Korean provocation or other, and now any North or South Koreans close enough to the border are subject to the whimsical musical choices of whatever South Korean colonel is in charge. On this particular day, I caught a bit of an old pop tune from 1994. (Thank you, Shazam.)
Looking down
From the tunnel, you continue on to Dorasan Observatory, where you can finally peer down on North Korea itself and see its enormous flagpole — once the highest in the world — which was built to overtop a South Korean flagpole. There's a village down there that US officials say is empty and always has been: a Potemkin village that would be more laughable if we hadn't just visited South Korea's Potemkin train station. And you can see out to Kaesong, the industrial complex that was once the site of South Korean businesses operating in North Korea but is now shuttered.
There's a line of mounted binoculars at Dorasan Observatory, and for 500 won you can take a closer look at the mysterious country beyond. I managed to catch sight of some fieldworkers — most clad in white, a few on the edges in gray, maybe supervisors or guards or who knows what. There was a frisson to seeing actual North Koreans, like spotting a rare animal on safari, and also a kind of sickening feeling about such voyeurism. It's true that I've taken photos of poor peasant farmers in Laos and Myanmar without feeling particularly weird about it, but at least those folks could engage with me if they had wanted to. I was looking down on North Koreans who had no way of looking back.
Human beings
A DMZ tour isn't really about North Koreans as human beings. At no point did any of our tour guides, South Korean or American, mention North Korea's awful human rights record or the recurring famines that continue to torment the North Korean people. One way the DMZ works as an imaginary space is by turning North Koreans from individuals into representatives of their state: Bob the soldier, or tiny little dots in the distance seen from Dorasan, or anonymous tunnel diggers. But I know about all these things. I have friends who grew up on the other side of that border, and I know some of the hardships they endured, some of the traumas they still carry with them.
Perhaps that's why the most affecting moment of the tour, for me, was a brief stopover after lunch, at a kitschy little tourist trap in Paju, close to the border. There we saw the Bridge of No Return, where prisoners of war were exchanged and had the option of choosing one or the other Korea to stay in. To consider the bridge was to think about the individuals crossing it, the reasons they had for choosing one side or the other and the sacrifices this must have entailed. We also learned about a shrine where people with North Korean roots come to do ancestor worship on the major Korean festivals, when all the other Koreans are heading to their hometowns. The thought of those people cut off from their roots was ineffably sad, and it made me think of the Book of Lamentations and the suffering of Jews in exile who could no longer reach their beloved Jerusalem.
Panmunjom
The highlight of the tour was our visit to the Panmunjom Truce Village. South Koreans aren't allowed to join this part of the tour, and it's frankly weird that anyone else can go there. We switched from our tour bus to a different bus, leaving our bags behind, and now we were under the care of a young American infantryman with a pistol prominently at his side.
The truce village itself isn't much to look at, just some military buildings and some sheds in the middle, but everything is formal and tense. First we were given an introductory slideshow, narrated by our American soldier. We learned about the incident in which North Koreans hacked to death with axes two Americans who were trying to cut down a tree that blocked their view. We learned of a firefight that broke out in the 1980s when a Soviet journalist bolted for the South Korean side. We learned that the North Koreans never give the South Koreans or the US any information about what they plan to do, but that the South Koreans announce the day's schedule and activities through a bullhorn each day to try to minimize the chances of any incidents.
Then, as we marched out into the open, we were told not to stop for anything, not even to tie our shoes, and not to try to signal to the North Koreans in any way. We stood outside for a bit, gazing across at a lone North Korean soldier standing in front of their rather formal building. The Americans call him Bob because he likes to bob in and out of the columns when the tourists come. South Korean soldiers stood around here and there, facing both north and south, motionless and intense in their taekwondo stances. (Their shifts are three-and-a-half hours.)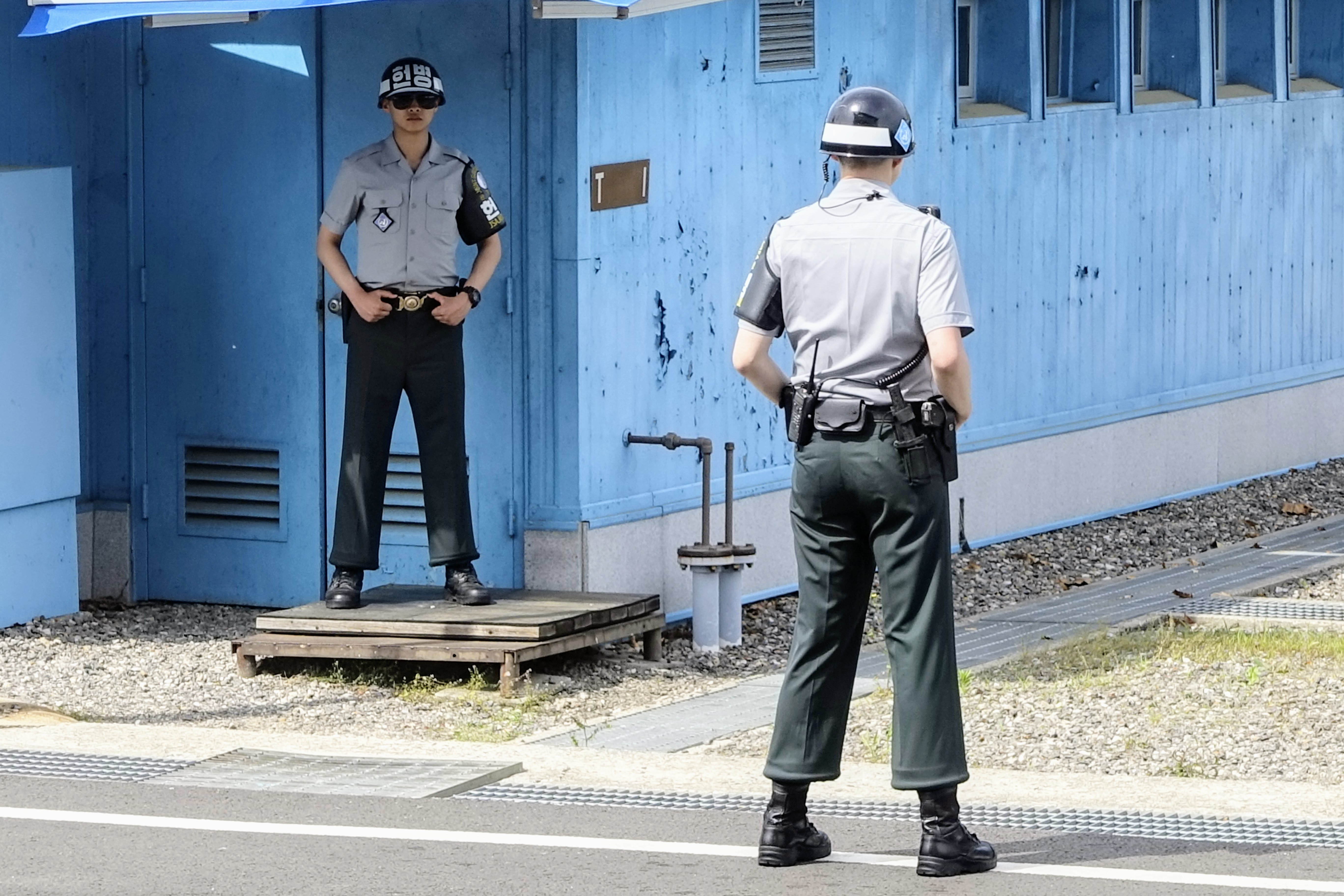 Finally we had our turn to go inside the conference room. The American cheerfully said, "You're in North Korea! You're in North Korea!" as people began crossing the dividing line at the center of the room. Also in North Korea were two more of those motionless North Korean guards, there to prevent anyone from doing anything interesting. We stayed there for a few minutes, then filed out again.
Self-defense
Once we'd departed the truce village, I asked the American soldier about his life in Korea. He's never been able to go down to Seoul, but sometimes he goes drinking in the nearest South Korean village. (Villagers near the border get free land and exemptions from taxes and military service, but you have to have North Korean roots to get the deal, and you also have to be back in your village before dark each night.)
He also said that being a tour guide made him the laughingstock of the infantry. "I got buddies who're going to Syria, to Iraq, to Afghanistan," he said. "At least they can defend themselves." Then he paused. "I probably shouldn't say anything."
I wondered what he meant by that. Are American troops at the DMZ supposed to retreat or surrender if fighting breaks out? Maybe. I think the US would rather lose a few soldiers as prisoners and have time to negotiate or calculate a response rather than have an escalating military engagement in which North Korean soldiers are killed or wounded. This is probably not much fun for the US troops involved to contemplate, but it makes sense.
Back to our reality
And then, with one final visit to a gift shop, our tour came to an end. You can buy I Heart DMZ merchandize, which has a certain absurdist charm. I bought an armband like the ones the South Korean soldiers wear.
Then we rode the bus back down to Seoul, and my friends and I headed for Hongdae and its Saturday Night crowds. We ate barbecue and bingsu, watched buskers, bought some swanky new clothes at Aland. Some rampant capitalist indulgence felt good after a day spent contemplating one of the least compelling alternatives ever devised. But it also felt a little less real, a little more imaginary than usual.